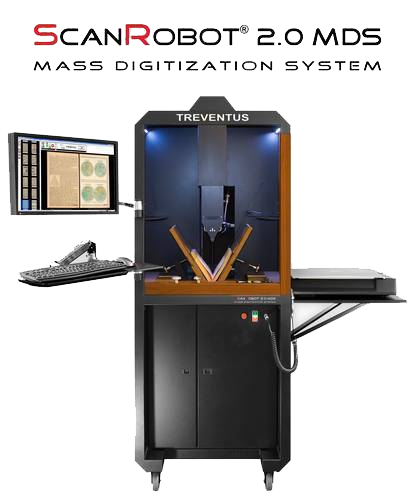 Indus International, Inc. announced the addition of the ScanRobot SR301 Automatic Page Turning Book Scanner to its expanding line of Book Scanners. The ScanRobot SR301 is manufactured in Austria by TREVENTUS Mechatronics GmbH and will be offered in North America exclusively by Indus International, Inc. and Indus MIS, Inc.
The ScanRobot is capable of scanning books, automatically turning pages achieving a throughput rate of between 1,500 and 2,500 pages per hour depending on the size and condition of the book. Very fragile and difficult to open books can easily be scanned by the ScanRobot SR301.
The ScanRobot is unique, because it is working with a proprietary digital camera system and an optical prism (TREVENTUS PCD300, TREVENTUS prism and capturing device 300), who allows to scan the pages absolutely distortion free. With its cold LED lamps there is no exposure of UV to the precious book pages. The illumination (cold LED light) developed by Treventus enables glare-free scanning without any exposure to heat, infrared or UV. Unlike conventional procedures, the exposure to light is only for a few milliseconds, thereby reducing the entire exposure for the book to a previously unattainable minimum. The book is opened at a convenient 60 angle protecting fragile books from any harm.
As with all its other products, Indus will offer the ScanRobot as a turnkey solution that will include free consultation, the scanner and its bundled software ScanGate, a high end PC workstation and a 21″ wide screen monitor, installation and user training on-site and after sales support with on-site service.
Indus International, Inc. will demonstrate the ScanRobot at the ALA Mid-Winter Convention in Denver, Colorado, January 23 – 26, 2009. Indus' booth No. is 2340. For more information on the ScanRobot please contact Indus toll free at 1-800-843-9377 or visit the Indus web site www.indususa.com.
The addition of the ScanRobot and the recently added large format, high resolution XL7000 Scanners (36″ x 52″ scans at true 600 dpi), the XL7000M 35mm microfilmer, the XL7000H Hybrid Scanner/Microfilmer, and planetary book scanners; 5002, 5004 and 5005, makes Indus the only offerer of a complete line of systems suitable for libraries and preservation archivists.