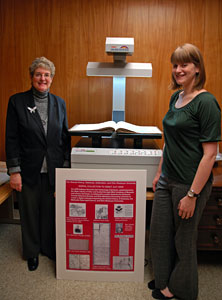 OWU's new color book scanner has arrived. The Indus 5002 color book scanner, cradle and all, already is playing an instrumental role in creating a digital library of rare and fragile historical documents, information and photographs of historical significance for students, faculty and staff members and, as Theresa Byrd, OWU's chief information officer and director of libraries says, the world at large. The scanner, which was installed in Beeghly Library at the end of October, was provided as part of a $47,000 one-year Library Services and Technology Act (LSTA) grant that was awarded to Ohio Wesleyan by the State Library of Ohio, using funds provided by the federal Institute of Museum and Library Services.
We hope to have more than 600 scanned items added to the developmental collection by February, says Emily Haddaway, curator of the Ohio Wesleyan Historical Collection. I am able to upload the scanned items to OhioLINK's servers and describe them remotely Because of the scanner's built-in book cradle and overhead scanning mechanism, even the oldest and most delicate books can be scanned without having to invert them.
As Byrd points out, this project also allows for collaboration with the Delaware County Historical Society in terms of digitizing an estimated 1,200 rare documents about OWU history, and that of the Delaware community, as well as our ties to the Methodist faith and heritage.
The completed collection will launch in July, says Haddaway. That collection will feature scanned manuscripts, correspondence, photographs, and newspaper and magazine articles. With the help of the Digital Resources Commons (DRC), an outgrowth of Ohio LINK's Digital Media Center, universities such as OWU can add content online to their own digital repositories and control how that content is displayed.
Digital repositories are a great way for colleges and universities to share their information in a readily accessible manner, says Haddaway. Included in Ohio Wesleyan's collection are materials from the Branch Rickey historical collection (being assimilated now), shared OWU historical information, and items from Ohio Wesleyan students and professors
We have a great opportunity to share items that might not otherwise be seen anywhere else, says Haddaway. Proper attention can therefore be drawn to these historical materials..
Pam Besel
Article courtesy of Connect2OWU, Ohio Wesleyan University Office of University Communications